The goal of every therapist is to ensure their clients get what they want. And that they are satisfied at the end of their therapy session. But a good therapist should know how to motivate clients to participate fully through the duration of their therapy if they were to achieve this.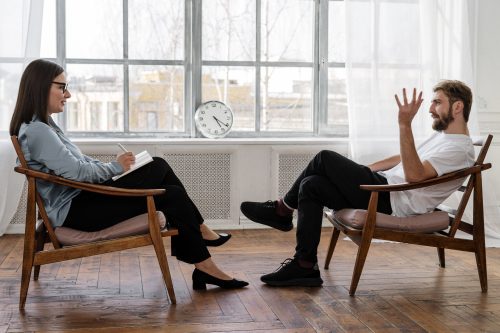 As a professional therapist, it is necessary to engage clients during and outside your sessions because it is not good enough for your clients to only feel motivated when you have physical sessions. Good rapport and effective communications in between the physical sessions will help ensure the success of the therapy.
Keeping clients engaged during the session
It is necessary to engage clients in therapy sessions if you plan on having productive sessions with them. Productive sessions must be interactive, and the most effective way to get your client to participate is by engaging them in friendly but professional conversations.
You can engage your clients effectively during sessions through the following methods:
Creating a friendly client rapport
The first step to getting your client to open up to you is by creating a rapport with them. Create a warm and receptive environment, engage them in light conversations, put them at ease, and make them comfortable. The ultimate goal here is to try and gain enough trust from your client to get them to open up to you. And this will likely take some time, but if you keep on, it will pay off eventually, and you will get the results you desire.
Showing empathy to client's predicament
Your ability to show some empathy will determine the willingness of your client to make conversations with you. Every good therapist knows that it is best to keep their reservations aside and empathize with clients if they plan to get results.
Active listening without judgments
Pay attention to your clients when they are talking. Show them you are actually interested in getting to know their story and helping them through their current circumstances. This will further ease their comfort and increase their chances of further communication with you.
Engaging clients outside the session
The importance of keeping your clients engaged during sessions cannot be overemphasized. However, it is just as relevant that you keep them motivated and engaged in between sessions when you are not physically present with them. Because this will, to a large extent, determine the success of the therapy sessions.
Sending emails is a common channel to keep the communication going between you and your clients, but it may not really help you keep them engaged. And participation could be hard to determine, especially where emails are sent only to keep the clients motivated with no tasks to execute.
The most effective way to keep your clients engaged outside sessions is through digital engagement. Digital engagement often involves sharing activities with the clients to keep them engaged in between therapy sessions. Activities could be daily exercises or YouTube videos clients can watch to further motivate them for therapy sessions.
You can also create pathways for your clients to keep them engaged without getting overwhelmed with the process. Pathways allow you to share pre-built care paths with time intervals to keep your clients engaged outside sessions without overwhelming either of you.
Effective pathways can be created on the Quenza platform. This, is a platform that allows you to get creative with your pathways, share digital documents with your clients and track clients' progress through self-assessment features.
Quenza helps you set up digital engagement services with your clients in easy steps, and all you need to get started on the website is to try out a free trial at only $1.
---
Interesting Related Article: "Benefits of a therapy session"